News & Events
NEWS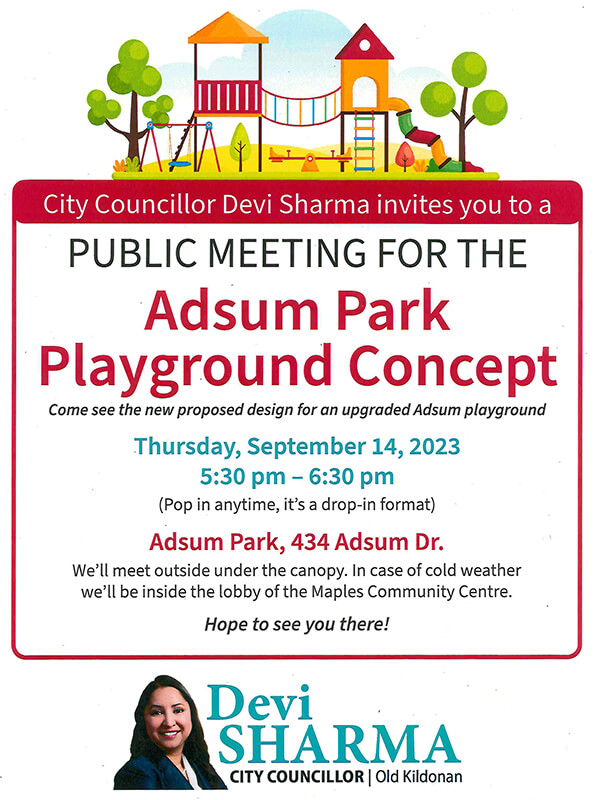 ---
New Parking Pass Available for Maples Collegiate Students
We welcome students parking in the Maples Community Centre parking lot, but please note a parking pass must be purchased effective September 2023. The annual pass is $160 for September to June 2024. Contact the [email protected] for more details.
---
Maples Recreation Association Awarded Funding for a new Accessible Playground
A new Accessible Playground is planned for the current playground in front of the Maples Multiplex site. Funding from the Building Sustainable Communities fund was announced on May 24th, and the project will receive funding through Councillor Devi Sharma and the city's Land Dedication Reserve Fund.
This project will create a new accessible playground for children aged 0 to 12 along with a gathering area for people within the community, adding additional and updated play value and gathering spaces for the recreation campus. The playground will be maintained by the City of Winnipeg, ensuring safety requirements are met. The renovated playground will have a higher level of accessibility and complement the new spray pad adjacent to it.
---
New Adsum Spray Pad Project
MRAI is excited to share that work started in summer 2023 on a new Spray Pad in front of the Multiplex, along Adsum Drive. The new amenity is one of many improvements planned for the Community Centre.
Funding to date has come from the city's Land Dedication Reserve Fund, thanks to support from Councillor Devi Sharma, and the province's Building Sustainable Communities.
The state-of-the-art spray pad is expected to open in 2024. Watch for more updates.
---
EVENTS
Basketball Registration for ages 7 to 18 is now open.
Closes on September 11.
For more information visit the Basketball programs page.
Register on the WMBA Community League website.